A singer who made it in pop and jazz of the 1950s and danced herself into the acting industry and became an icon.
Singer and Actress Della Reese has passed away last night November, 19,2017 at her home in California.
"She was an incredible wife, mother, grandmother, friend, and pastor, as well as an award-winning actress and singer. Through her life and work she touched and inspired the lives of millions of people," Reese's family said in a statement. "She was a mother to me and I had the privilege of working with her side by side for so many years on 'Touched by an Angel.' I know heaven has a brand new angel this day. Della Reese will be forever in our hearts."                                                     
Born in the gospels on July 6,1931 Della Reese, was actually Delloreese Patricia Early. She started off as a backup vocalist for Lena Horne, and then began singing for Mahalia Jackson. Reese transcended over into more secular music like jazz and rhythm and blues.
Her No. 1 R&B and No. 2 pop hit "Don't You Know" in 1959. The 45, her first single on RCA Records, was a ballad drawn from an aria from Puccini's opera "La Boheme."
She continued to show her mastery in Jazz and winning four Grammys in the 70's and went to start her own t.v. show called Della in 1969, which made history as the first talkie t.v. show by an African American.
She also took starring roles in the features "Harlem Nights" and "A Thin Line Between Love and Hate" and appeared in 20 made-for-TV pictures.
One of her biggest contributions came through the CBS t.v. show Touched by An Angel. Though the show was axed during its debut 1994-95 season, a letter-writing ca
mpaign convinced execs to bring the series back, and Reese prevailed as the heavenly Tess for a total of nine seasons, winning seven consecutive NAACP Image
Awards as best lead actress in a drama and collecting two Emmy nominations and a 1998 Golden Globe nod.
Throughout the new millenium Della continued in movies such as Dinosaur, Beauty Shop, Christmas Angel and Me Again and making pop up appearances on t.v. shows. After reports of her being sick surfaced online, Reese passed away.
---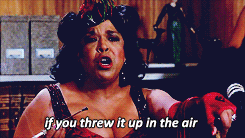 RIP DELLA REESE
(1931-2017)