This is good that people are actually standing up to this shit. Give that man his job back, Like that man has freedom of speech. This man has put his job in jeopardy, and watched it fly away just for taking a kneel during the national anthem, an anthem that speaks indirectly in support of racism in the United States.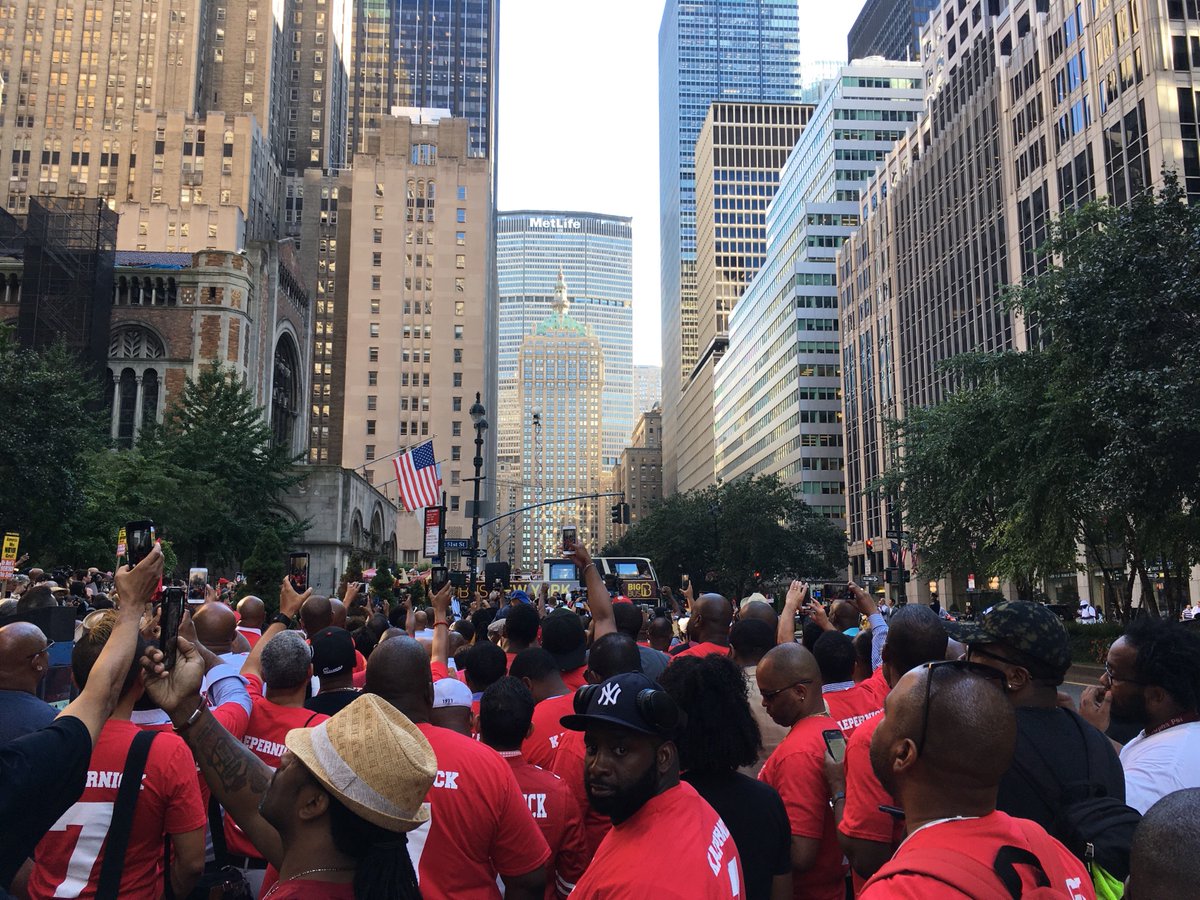 NyPost: Colin Kaepernick may still be out a job — but there's plenty of people who are on his team.
Hundreds of supporters gathered outside NFL Headquarters on Wednesday to voice their outrage over the quarterback not being signed ahead of the 2017
season.
The "United We Stand" rally was in full swing as of 5 p.m., with countless fans standing along Park Ave, chanting "Stay Woke!" and holding up signs that said "NFL Blackout" and "Kaepernick We Kneel With You."
Some wore shirts, which showed the former 49ers star taking a knee — and portrayed his signature afro as the black power fist.
Many invoked former athletes turned protesters, including Tommie Smith and John Carlos, as well as Muhammad Ali.
"As far as I'm concerned no fantasy football, no NFL packages, no going to the games — which we usually do a couple times a year," said Mitchell Stevenson, a 56-year-old Giants fan who traveled from Hamden, Connecticut, with a crew of family and friends.

"Done," he said firmly. "That's it."
(Nice shirt though I don't really even care for the NAACP.)
NFL owners have been avoiding Kaepernick like the plague after his national anthem stunt last year.
The QB is still seeking work with just two weeks left before the season starts — and unless another team's star is injured, won't likely be on a Week 1 roster.
Fans outside the NFL headquarters on Wednesday said they believed Kaepernick is being unfairly "blackballed" for simply utilizing his first amendment rights.
The rally, which was promoted by Spike Lee and others, was ultimately organized by a group of individuals who believe the 29-year-old deserves to play in the league.
"I think Kaepernick getting a job is start," said Eddie Googe, a 50-year-old Cowboys fan from Connecticut who called on the NFL to use its immense power to "unite" the country.
It is evident that this nation is built upon White Supremacy because any white man would've been able to do this. Donald Trump is able to have his hand by his side during the national anthem and the salute to the flag but betcha if half-breed Barack Obama would've done that…..God save his head. Had Kaepernick (even if he was white) not been speaking out for Black people and out for some other cause he would receive the most praise.
We now see where in support of Kaepernick more football players take a kneel during the national anthem. I think that this is a form of freedom of speech and now this is proof that we as Black people were never intended for those rights because at the time we were still slaves an weren't being thought of. We were property! So no they didn't have it in mind that we could speak up, or tell the master NO because if we could we would've had this country in the palm of our hands.
Recently his own biological mother said something about how she doesn't like what Kaepernick is doing. Bitch let me spit some facts on you.
You didn't raise this man you are the last person to have a right to even speak out about this motherF****n issue, as said before any man or woman of Caucasoid background shouldn't be telling Black people how to speak, talk or express their rage and frustration. You were never apart of the cook out so back your ass up and stay where the f**k you are at.
You gave this man up for adoption and kept all of your white kids, if that doesn't scream racist then, I don't know what is. A mother's love, or love for a family member comes unconditional.
You were ashamed of him nine times out of ten. This is coming from the woman who layed in the hay with a black man and his penis and enjoyed it. But oooohh boy YOU WEREN'T EXPECTING TO GET PREGNANT and have that Black man's child, but it  happened anyway. I don't care how much you come around saying "I can't be racist I sleep with a black man, i'm married to a black man, I'm in love with a black man." That line is played out because that Black man doesn't speak for all of as a collective. Maybe in your head but not ours. You are no different than your slave masters who actually enslaved the Black man and Woman and had sex with both. (Yes not excluding the Homosexual acts because your ancestors would have copulation with anything that exists not excluding animals, children, infants and inanimate Objects. Not a fucking shoe could run from the raping of a white male's penis.) So what did the plantation Owner say, could he travel in time and come down to a meeting and say "I wasn't racist because I slept with a Black man/woman."
THINK ABOUT IT.