Well my damn, I see this dude really doesn't get a break at all. I think his final break will be his date of death lol.
Stevie J and Joseline Hernandez was an item, a power couple and what everyone aspired to be. Well now, that Joseline has gotten what she wanted Stevie's Semen fluids floating around inside her and she pushed that baby out. Joselin is going coocoo for coco puffs. lol
Stevie J accuses Joseline of assaulting him by throwing a big hot bowl of mushrooms on him.
WOW WTF

The alleged fungi fling went down May 10 at Seasons 52 Restaurant in Atlanta. According to the police report, Joseline flew into a rage when Stevie tried to back out of the meeting they'd planned — with his lawyer. He accused her of  being "in a hostile mood."
When Stevie got up to leave he claims Joseline grabbed a bowl off the table with "about 6 to 8 very hot mushrooms ready to be served and threw it at him." Stevie's lawyer then called police.
Several restaurant employees told cops they witnessed the 'shroom abuse and added that Joseline's behavior scared other patrons. Officers recovered the ceramic bowl as evidence.
Now Stevie is asking for the courts intervention with the situation and wants a judge to force Joseline to have a mental evaluation.
"FUNGI FLING"

That shit was funny as fuck, but No Joseline didn't put it in God's hands this time she really just went in and tried to burn this man. My best weapon for Joseline next time would be HOT GRITS. It's funny that Stevie was with Joseline out of lust and wasn't prepared for what he was about to have, because he knew Joseline had a banging body but I don't think he knew that Joseline was a "DON'T CARISH" type of chick. I really don't care if he even dated her to get back at Mimi, because he doesn't realize that everything that he does now will come back even harder. If we go back to the reunion ruckus that almost ended the show then we can kinda see where that karma came from.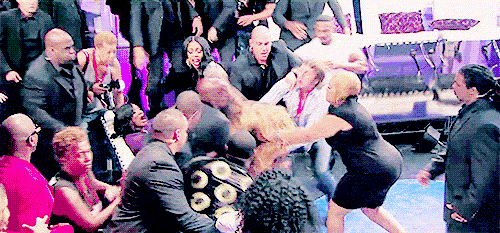 What do you guys think ab out this whole damn thing, because I'm just fucking laughing at the karma in this shit right here lol.